You DO NOT have to get a ticket, you DO NOT have to wait in the long lines at the DMV to make the exchange.
The plate exchange should take no longer than 5 minutes, and you must reattach your new plates once you've left the DMV building.
Good luck, and thanks for supporting the Plum Beach Lighthouse!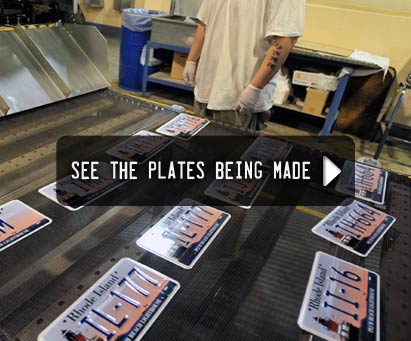 Plum Beach Lighthouse, Behind the Plate
This YouTube video is a look into the making of the Plum Beach Lighthouse License Plate, made at the ACI in Cranston, Rhode Island. Narrated by Jim Forbes.
The PBL Plates take anywhere from 6-12 weeks to be made by the Correctional Industries and delivered to the DMV. You will receive a notice from the DMV when your plates are available to be picked up at the headquarters at 600 New London Avenue in Cranston, adjacent to the ACI. You must bring your old plates with you to make the exchange for the new ones. It is suggested that before going to the DMV you loosen the bolts on your old plates making sure they can be easily removed once you arrive at the DMV. There will be no one there to assist you with removing the old plates. Be sure to bring the proper screwdriver or other tools needed to remove the plates once you arrive at the DMV. To get your new plates, go to the "Plate Department" on the first floor of the building.